We Accept PayPal
Euroclean Vac
Featured Products
Dirt Devil Part List
Euroclean Part List
Hoover Part List
Royal Part List
Capture Carpet Cleaning System and floor care products clean the toughest stains. There's a Capture product for your cleaning need!

The Capture Total Care Kit provides everything you need to clean spots and stains from
your carpet. It comes in two convenient sizes and features the Soil Release Pre-Mist,
Deep Cleaning Powder, and a carpet brush that can be used with any threaded handle.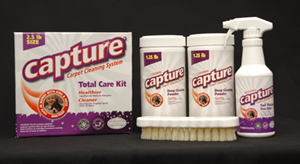 4lb Total Care Kit Our Price: $47.99 2.5lb Total Care Kit Our Price: $27.99


Both the Deep Cleaning Powder and Soil Release Pre-Mist are also available for individual purchase. The powder is sold in a 4lb handled shaker jug, 2.5lb shaker twin pack, and 8lb pail (not pictured). Cleaner extracts dirt and surface allergens without leaving moisture behind. The Capture® particles act like tiny sponges that absorb dirt, spots, and spills! Kit contains: 4 lb. container of Capture, 24 ounce bottle of soil release spray, and an applicator brush. The 4 lb. kit is enough to do 3 complete rooms or approximately 400 sq. ft.



4lb Shaker size Our Price: $19.99 8 lb Bucket Our Price: $34.99




Additional Capture Products

Have a really tough pet stain? Want to keep your wood, vinyl or ceramic floors
clean with Capture? Try one of our specialized products.


Capture Pet Stain, Spot & Odor Neutralizer works on tough pet stains and odors. Use it for common household odors, too. The perfect product for taking care of all types of organic-based pet stains. CP50

OurPrice: $13.99

The Pet Stain & Odor Neutralizer also comes in a convenient gallon size for large area cleaning. The perfect product for taking care of all types of organic-based pet stains.





Tough grease or oil stains call for a tough cleaner. Use Capture Capture Spot Eliminator.
16 oz. Can



Capture ® Carpet Soil Release Premist 37609 Capture Soil Release concentrate, mix 3 to 1! One quart makes one Gallon. Use with the Capture Carpet and Rug Dry Cleaner. Also designed as a replenishment item for the Capture® Carpet Cleaning Kit. 24Fl.oz (Pump sprayer not included)
Capture Professional Steam Clean Detergent can be used in any carpet cleaning machine. Maximize your wet extraction machine with this powerful detergent. CP52 37608

Capture Soil Release Pre-Mist The Pre-Mist spray comes in a convenient 24oz size spray bottle.